---
upcoming shows
_______________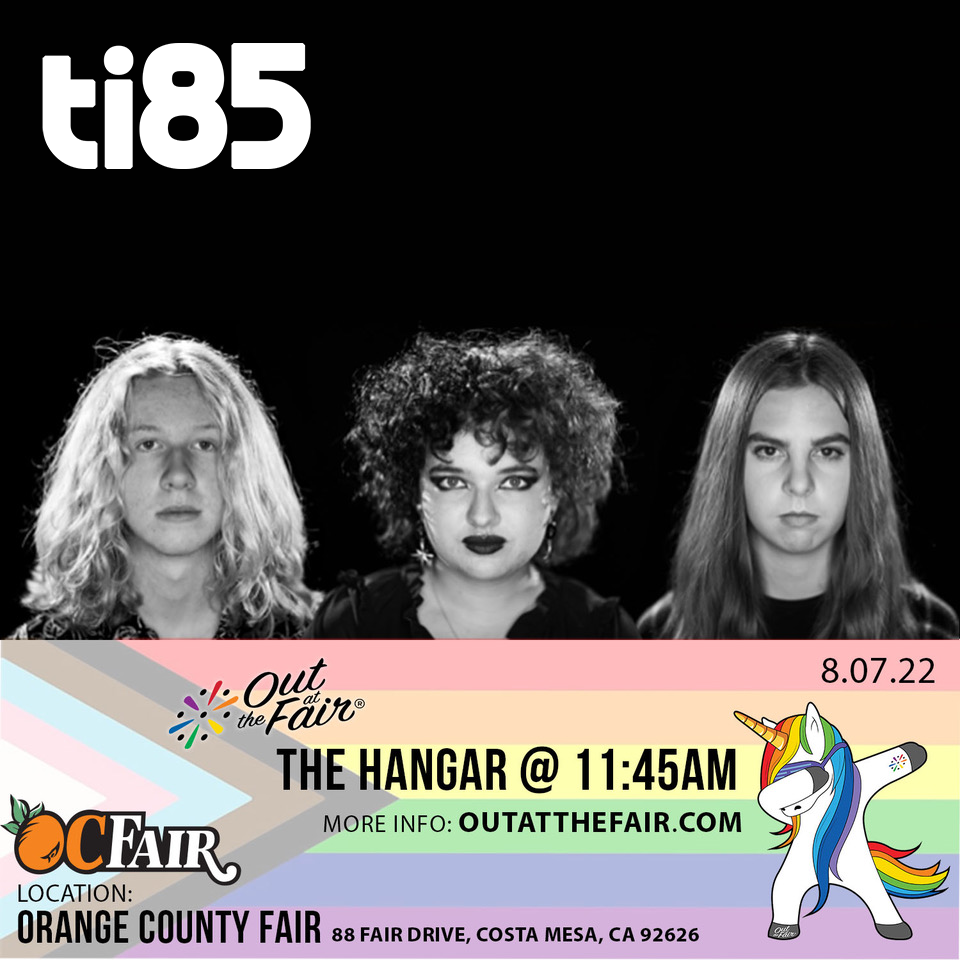 Out at the fair @oc fair
SUNDAY, AUGUST 7, 2022
11:45 AM – 12:15 PM
HANGAR STAGE

Orange County Fairgrounds
88 Fair Drive
Costa Mesa, CA 92626
_______________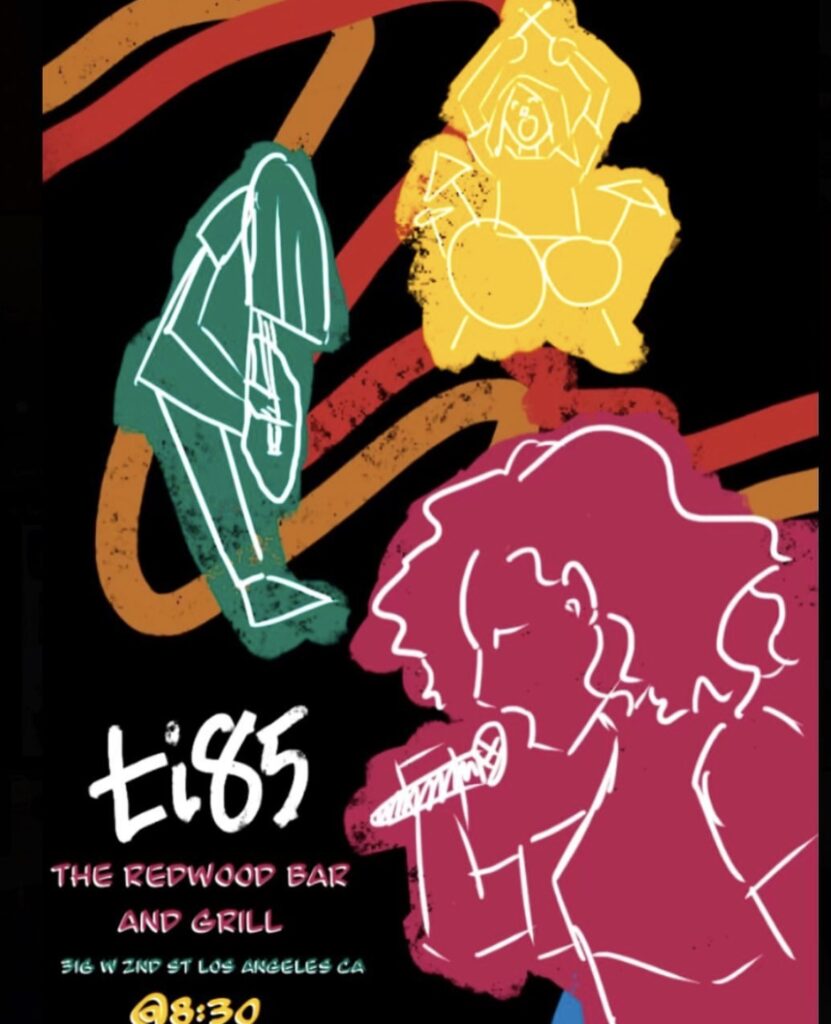 THE redwood bar & Grill – CANCELED
SUNDAY, AUGUST 7, 2022
Show canceled due to Covid issues with other bands
_______________
909 open market
SATURDAY, AUGUST 20, 2022
TIME TBD (Evening)
Parking Lot Show with Vendors at 909 Open Market
2282 N Gary Ave. | Pomona, CA
_______________
brouwerij west
SUNDAY, AUGUST 21, 2022
4PM – 5PM
110 W. 22nd St. | San Pedro, CA
_______________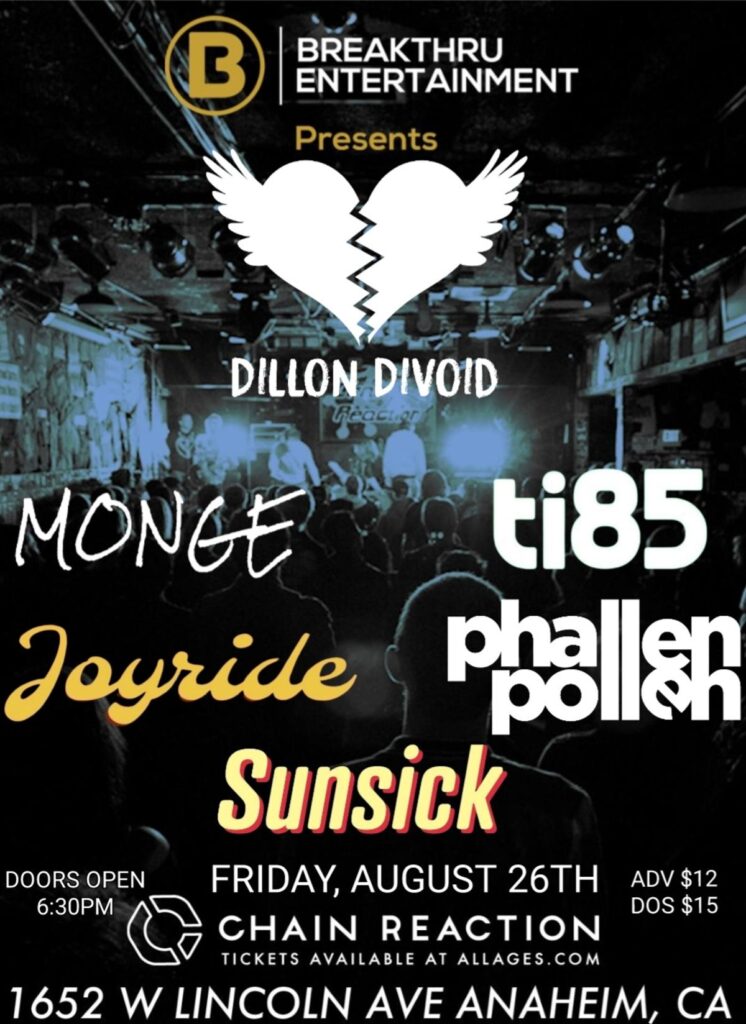 CHain reaction
FRIDAY, AUGUST 26, 2022
6:30 PM DOORS
ti85 on at 9:00 PM
with Sunsick, Joyride, MONGE, Dillon Divoid
PLEASE CONTACT US FOR TICKETS AT DISCOUNT PRICE!
1652 W. Lincoln Ave. | Anaheim CA 92801
_______________
CHANCE-A-THON
SATURDAY, AUGUST 27, 2022
6:00 PM
Fundraising Event for the Chance Theater
Chance Theater
5522 E. La Palma Ave. | Anaheim, CA
_______________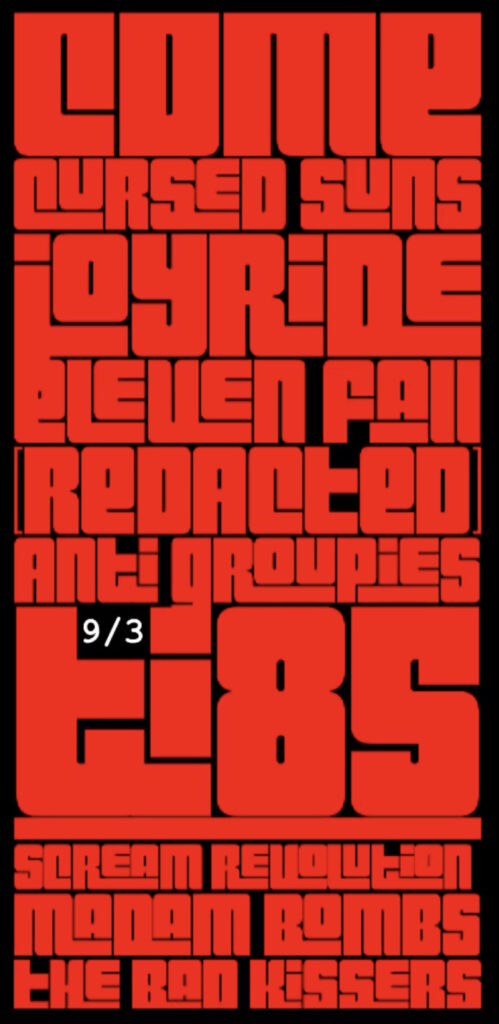 fiesta hermosa
SATURDAY, SEPTEMBER 3, 2022
Time TBD
With Scream Revolution and the Anti-Groupies and more!
1144 Hermosa Ave. | Hermosa Beach, CA
More details at fiestahermosa.net
_______________
orange international street fair
SUNDAY, SEPTEMBER 4, 2022
2:00 PM
MAIN STAGE
Orange International Street Fair
At E. Chapman Ave. & N. Glassell St.
Orange, CA 92866
_______________
recent shows
_______________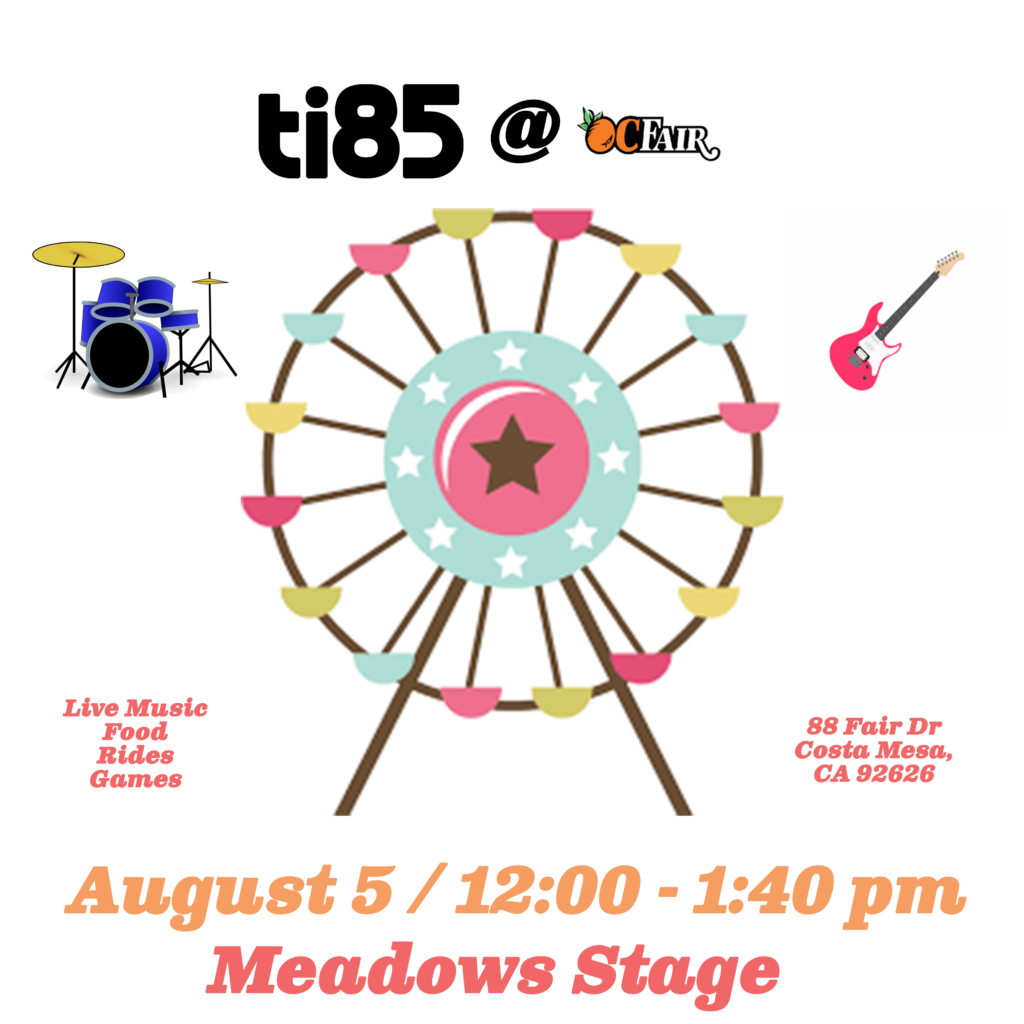 Orange county fair
FRIDAY, AUGUST 5, 2022
Meadows Stage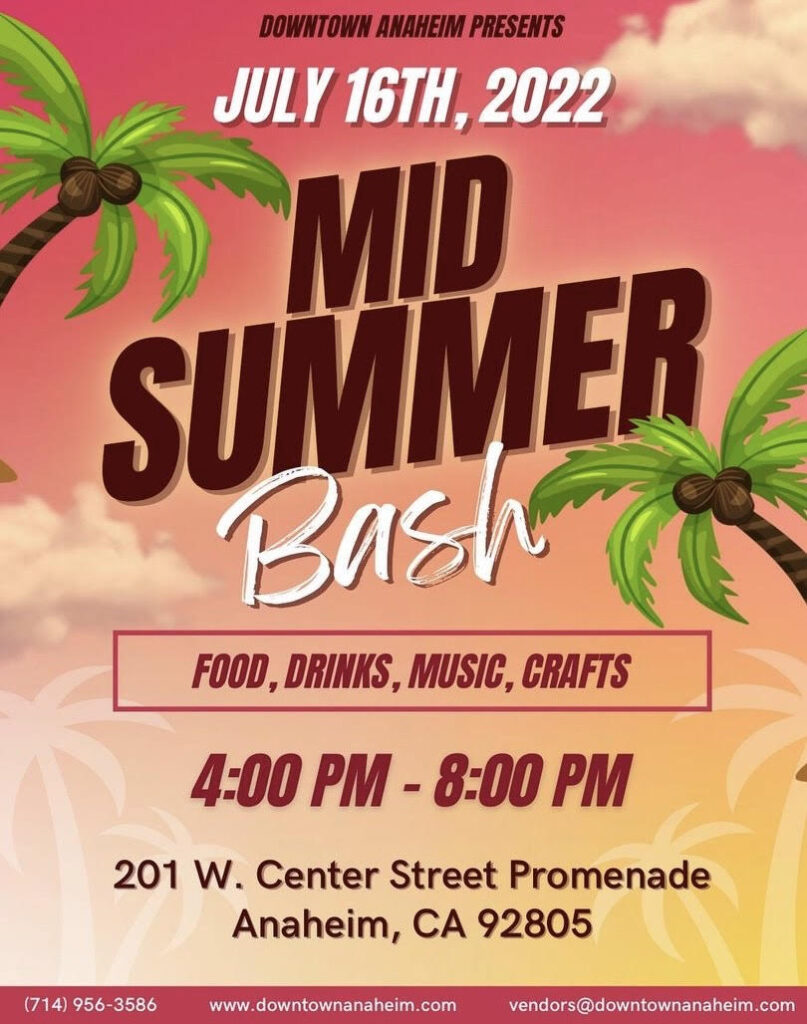 downtown anaheim mid summer bash
SATURDAY, JULY 16, 2022
Center Street Promenade is shut down for the Street Fair with vendors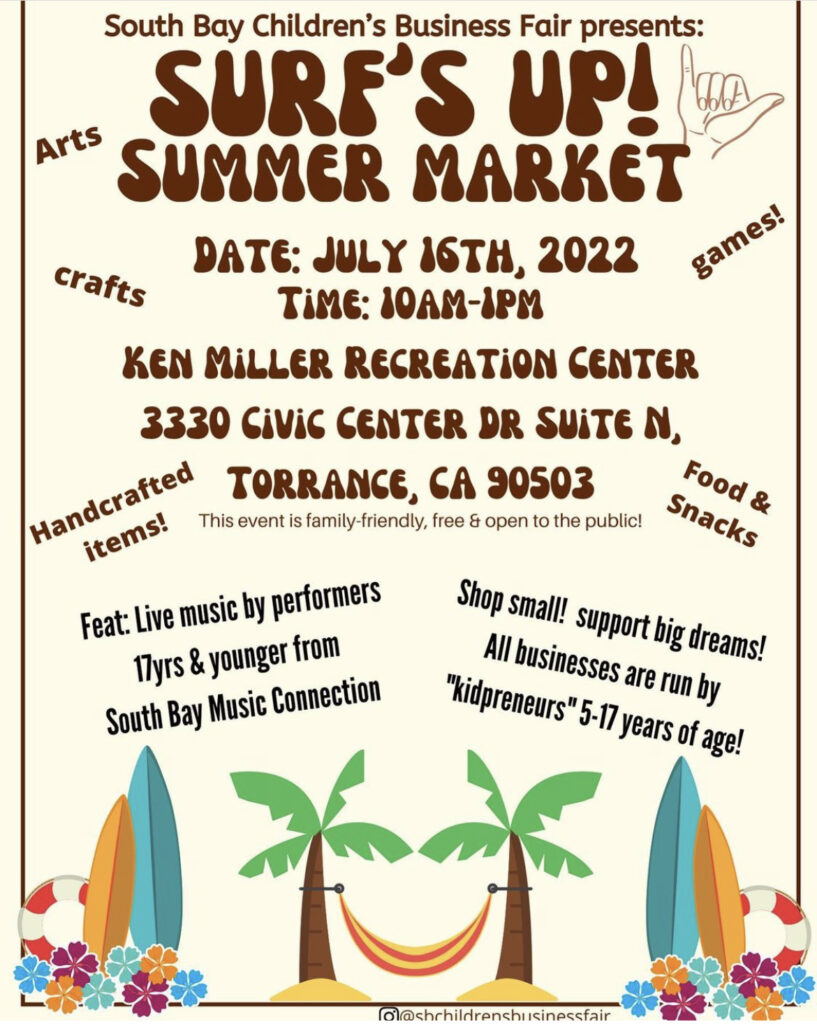 SURF's UP Summer market
South bay Children's business fair
JULY 16, 2022
Kid Entrepeneuers and Teen Bands, Including: Sophia Elena, Aiden Lunzer
Scream Revolution, The Wongs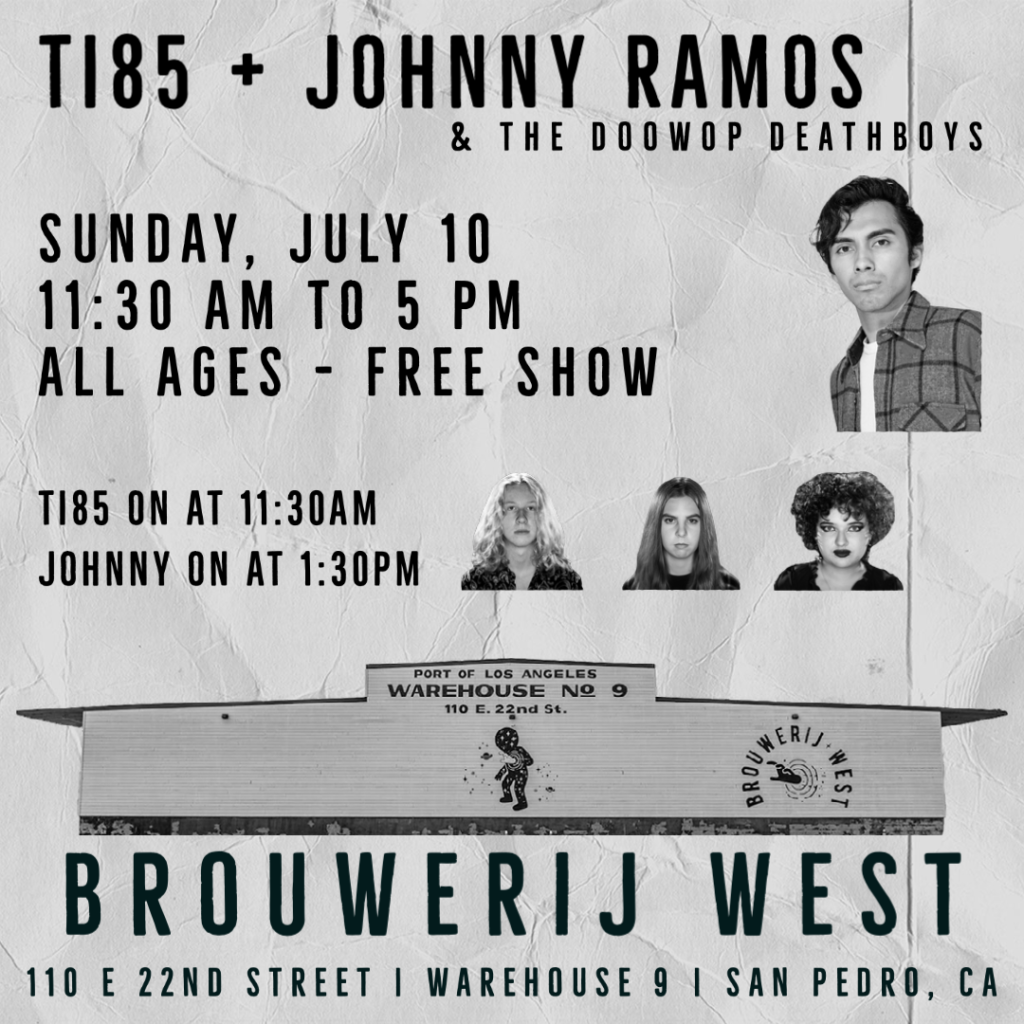 Brouwerij west
SUNDAY, JULY 10, 2022
ti85 opens for Johnny Ramos & the Doowop Deathboys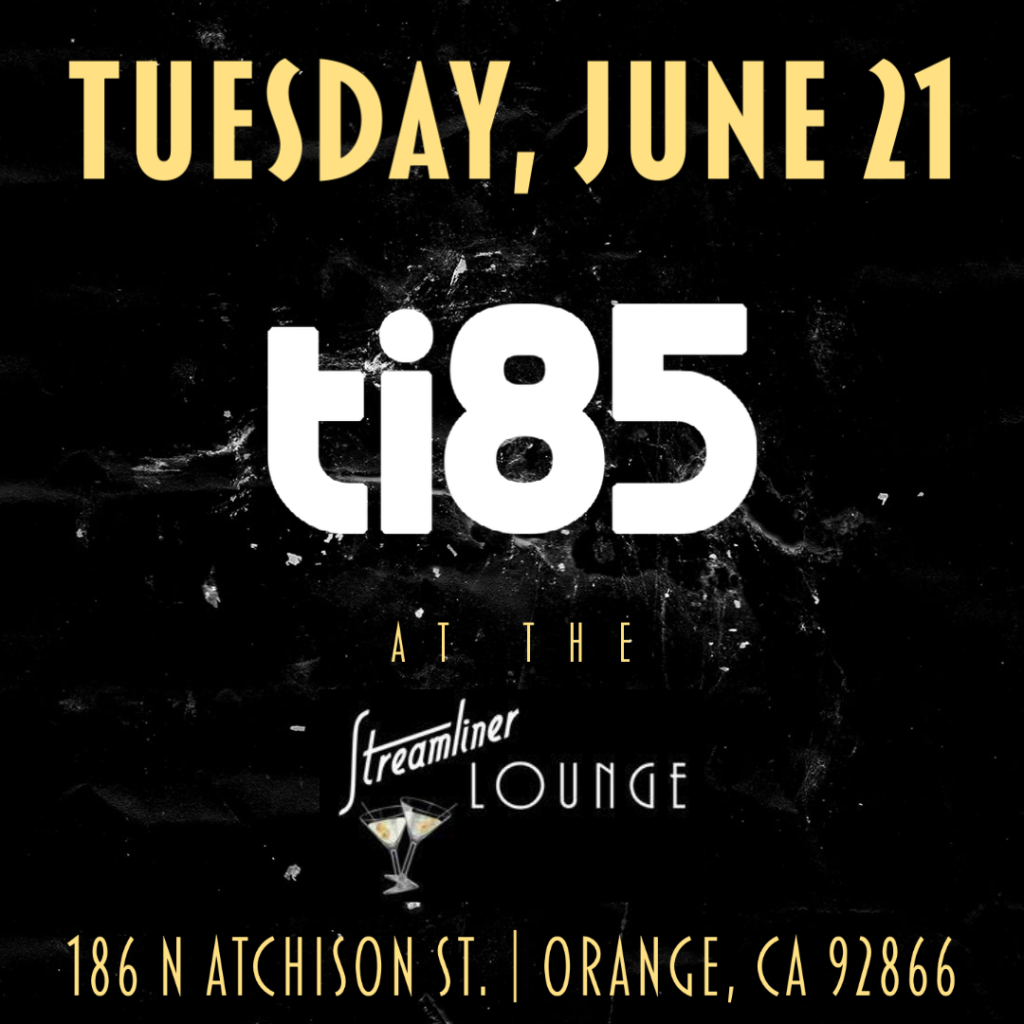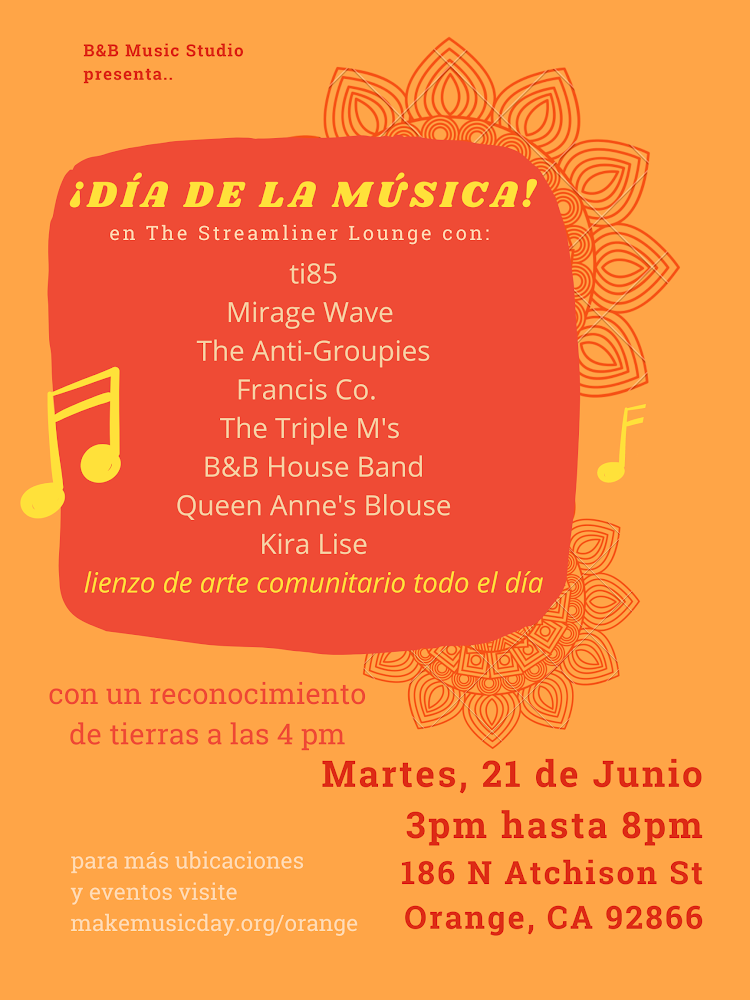 streamliner lounge
TUESDAY, JUNE 21, 2022
with Mirage Wave, The Anti-Groupies, Francis Co., The Triple M's,
B&B House Band, Queen Anne's Blouse, Kira Lise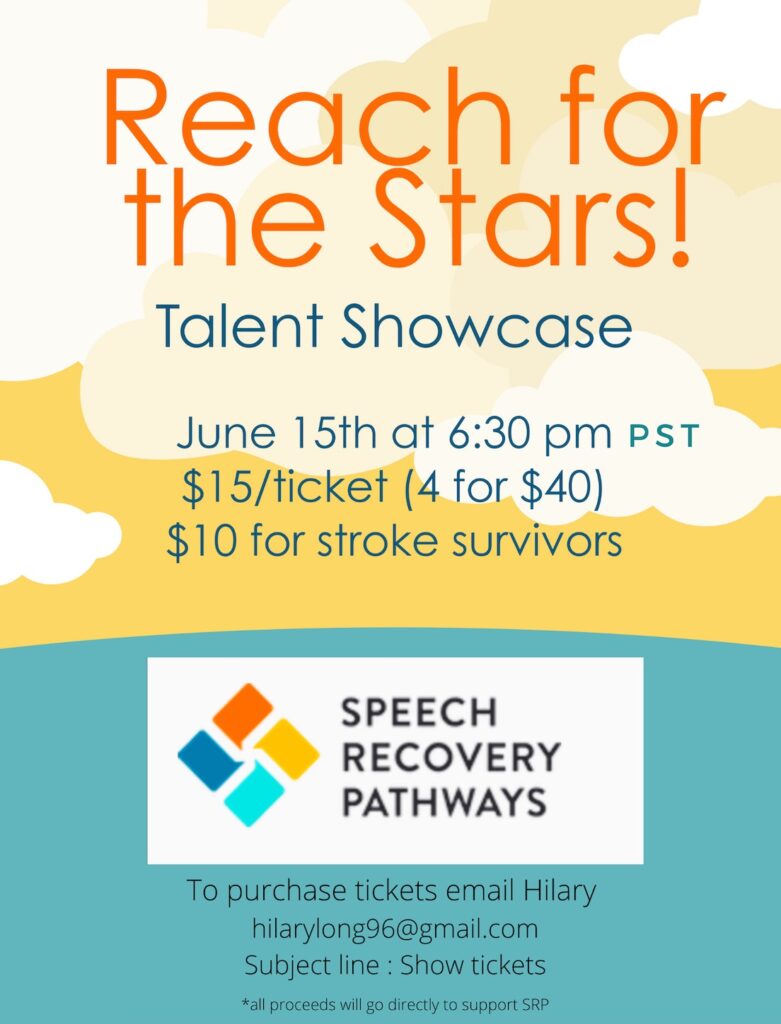 "Reach for the stars"
SRp talent showcase
WEDNESDAY, JUNE 15, 2022
ti85 Kicks off the Talent Showcase for the non-profit "Speech Recovery Pathways" who helps stroke and TBI (Traumatic Brain Injury) patients regain speech and language after injury.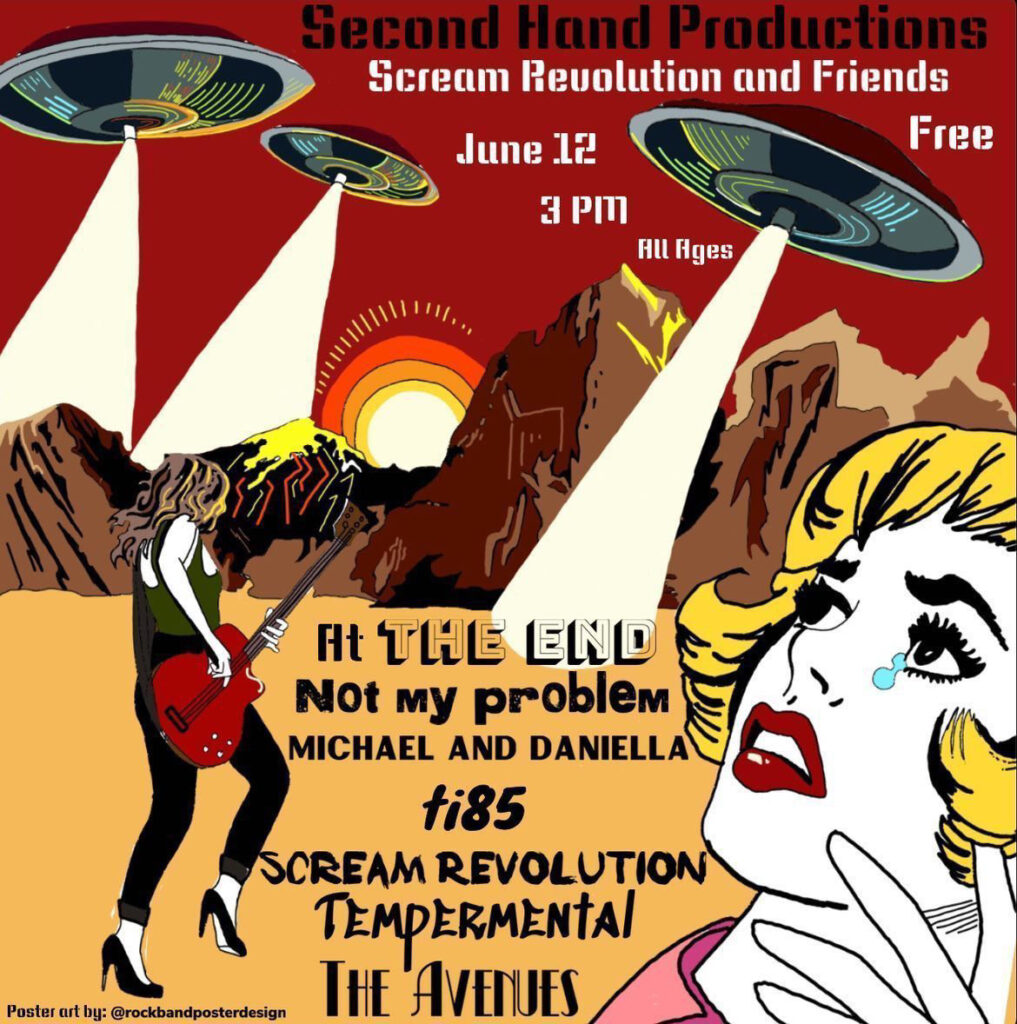 The end
SUNDAY, JUNE 12, 2022
with Not My Problem, Michael & Daniella, Scream Revolution, Tempermental, The Avenues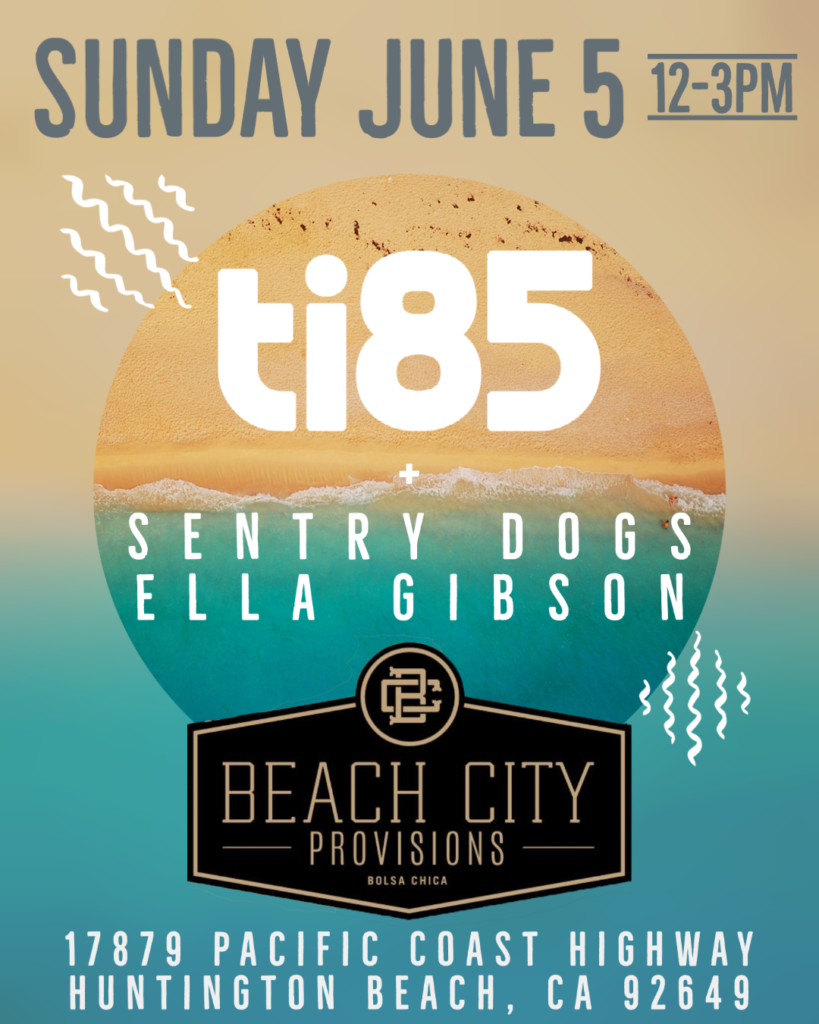 BEACH CITY PROVISIONS
SUNDAY, JUNE 5, 2022
with Sentry Dogs and Ella Gibson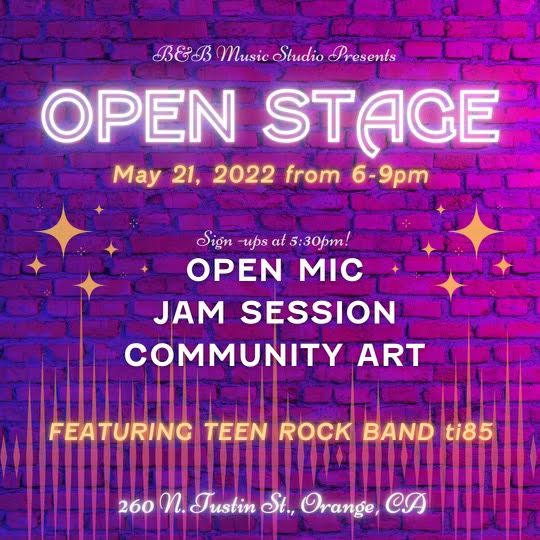 open stage
@ b&B Music school
SATURDAY, MAY 21, 2022
ti85 plays a short set to kick off Open Mic night at B&B Music School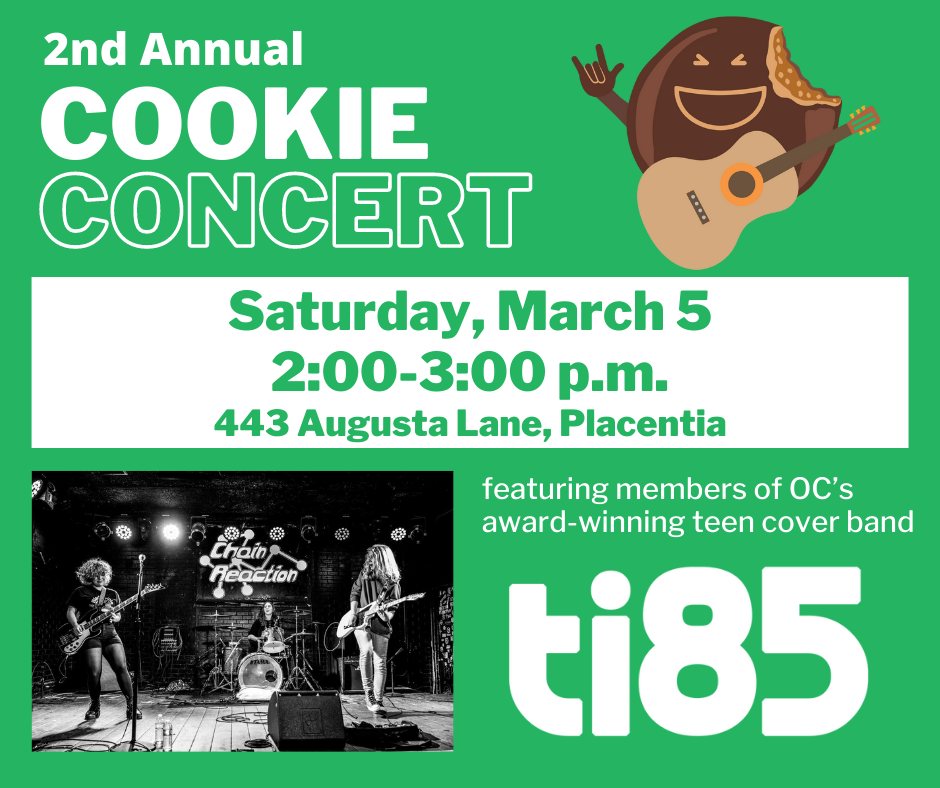 Cookie concert (2nd annual)
SATURDAY, MARCH 5, 2022
Driveway Show supporting Girl Scouts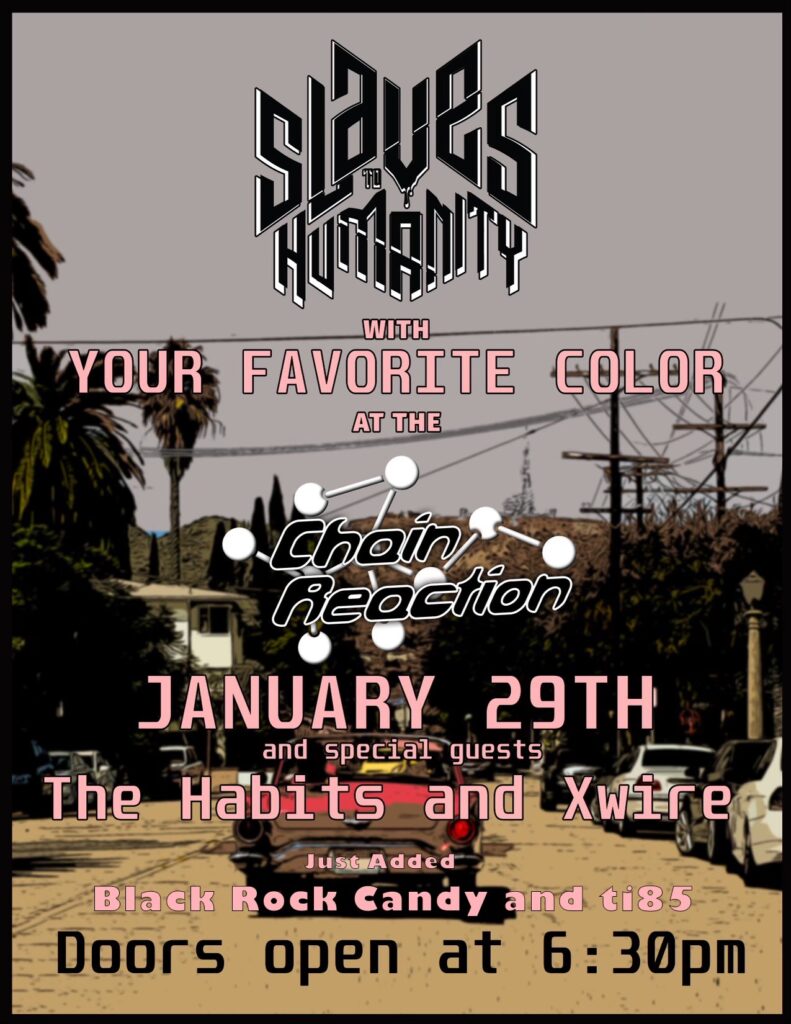 chain reaction
SATURDAY, JANUARY 29, 2022

SLAVES TO HUMANITY,
YOUR FAVORITE COLOR, THE HABITS, X WIRE, and BLACK ROCK CANDY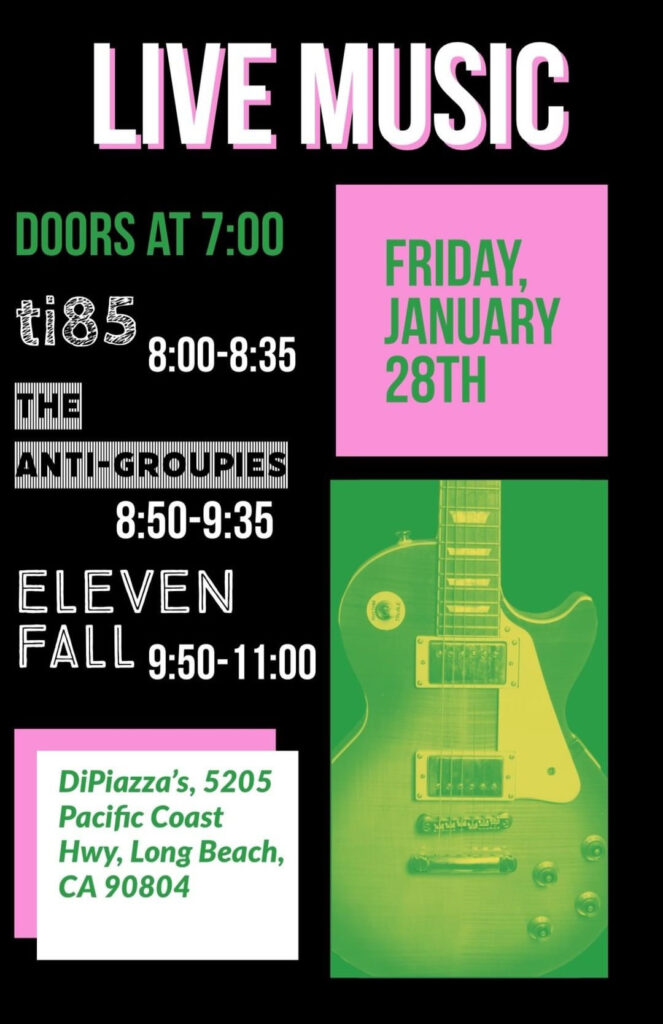 dipiazza's
FRIDAY, JANUARY 28, 2022

With ELEVEN FALL and THE ANTI GROUPIES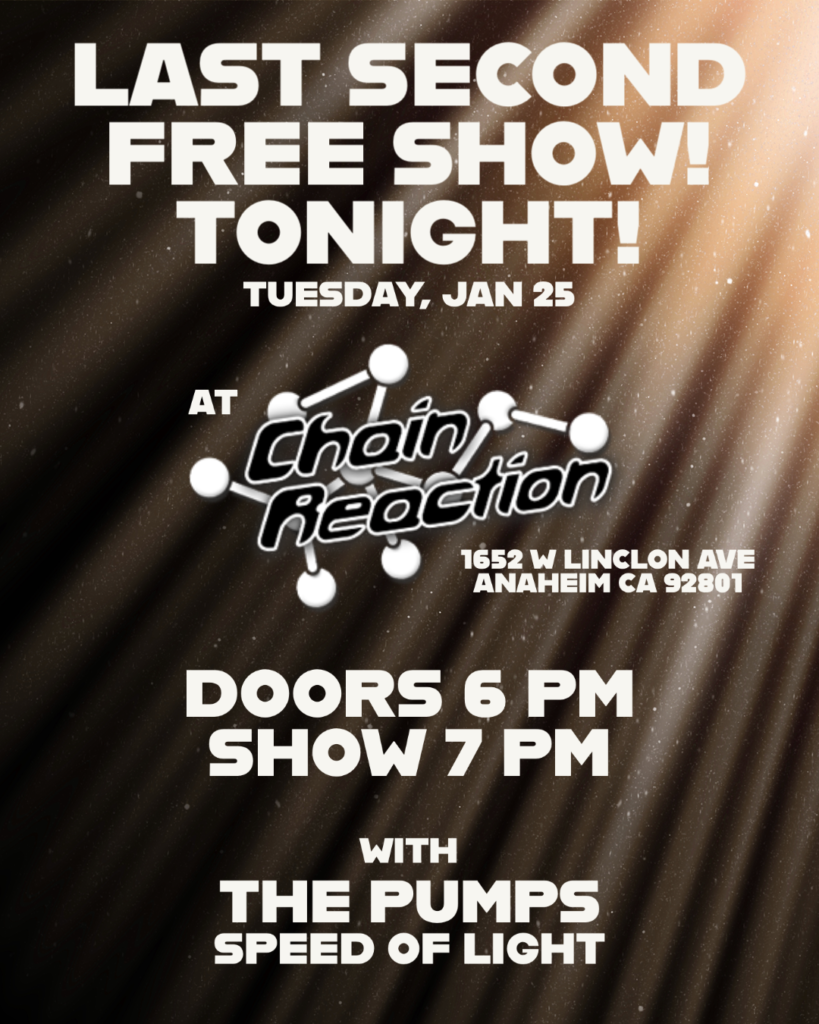 chain reaction
TUESDAY, JANUARY 25, 2022

Opening for THE PUMPS and SPEED OF LIGHT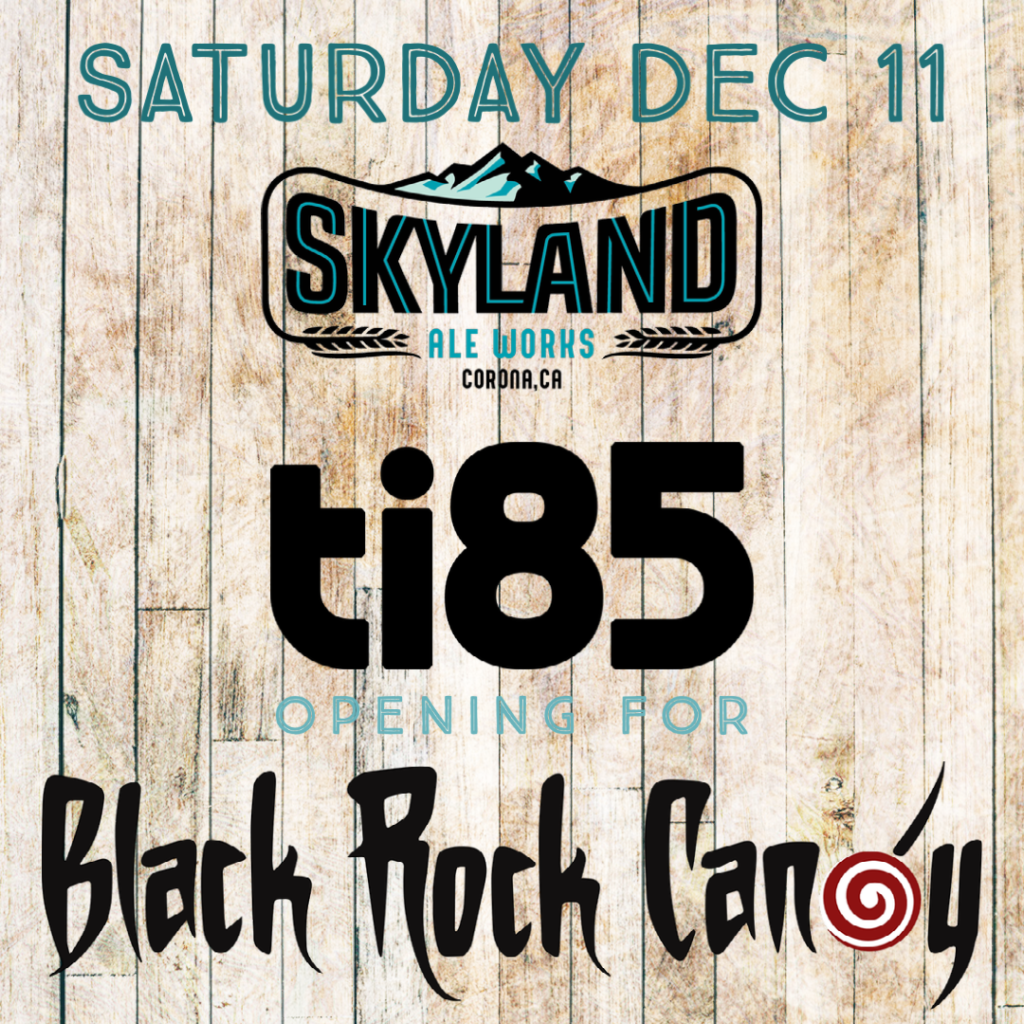 skyland ale works
SATURDAY, DECEMBER 11, 2021
Opening for BLACK ROCK CANDY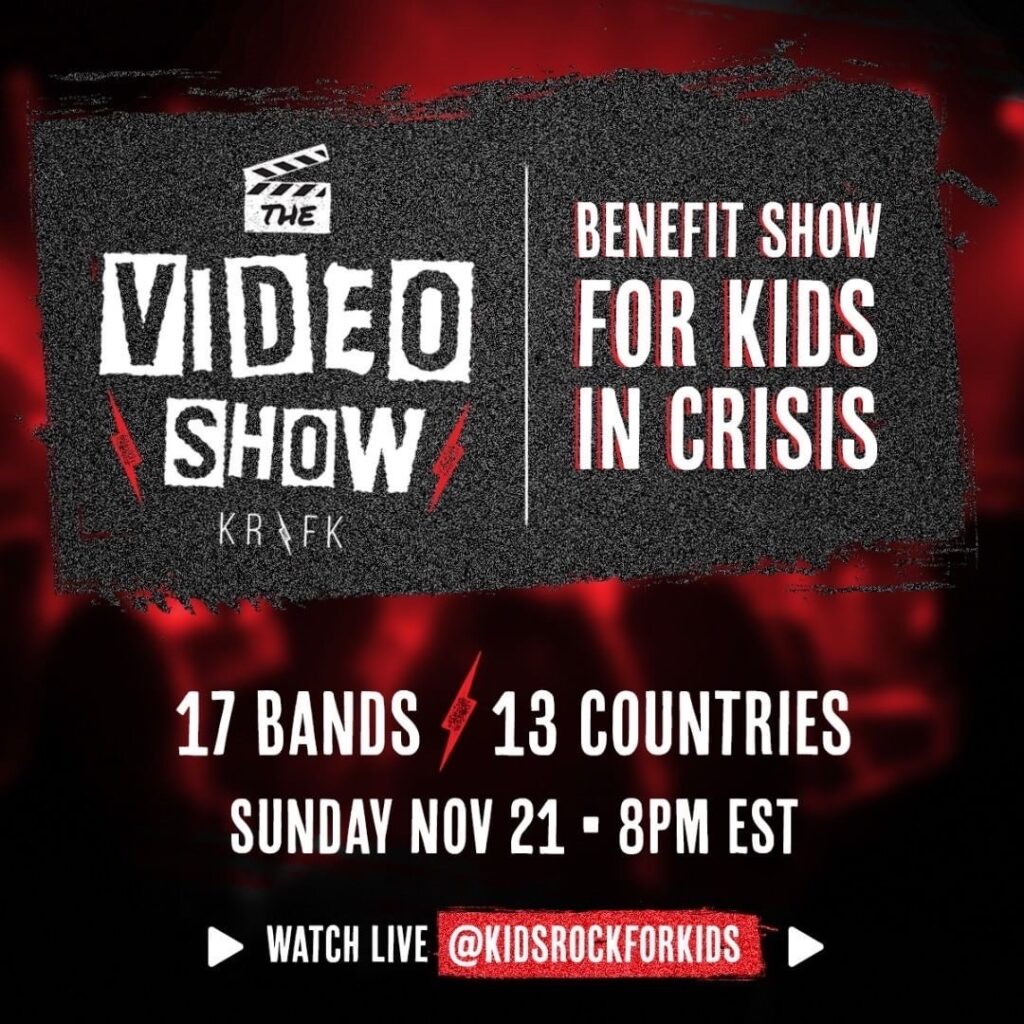 Kids rock for kids:
the video show 2
SUNDAY, NOVEMBER 21, 2021

Livestream Event Supporting Kids in Crisis
And the WORLD PREMIERE of our music video "Thought of You"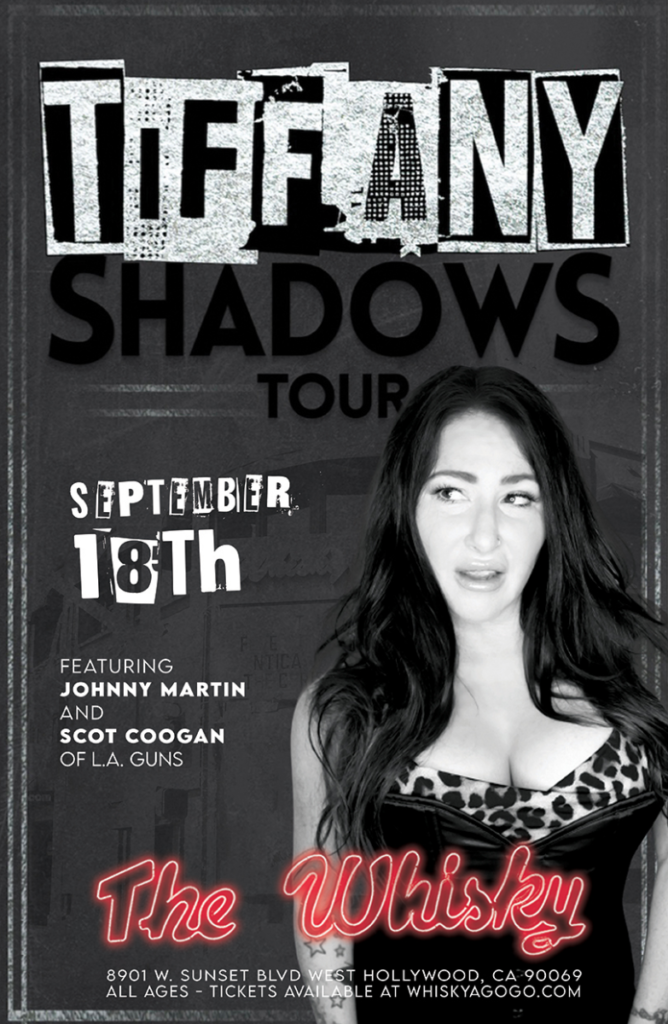 Whiksy a go go
SATURDAY, SEPTEMBER 18, 2021
Opening for Tiffany
with The Swansons, Black Rock Candy, No Service, Prince Fame
ORANGE INTERNATIONAL STREET FAIR
SUNDAY, SEPTEMBER 5, 2021
Main Stage at the Orange International Street Fair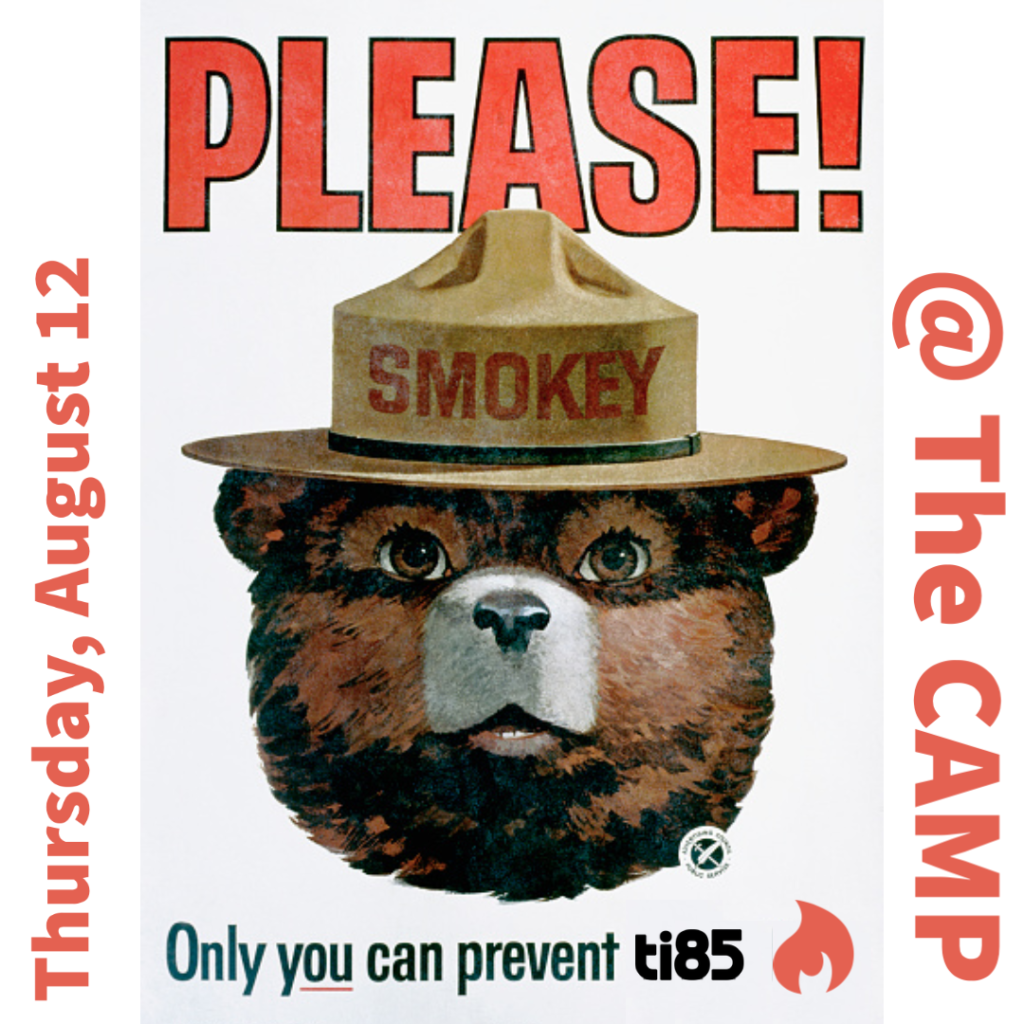 THE CAMP
THURSDAY, AUGUST 12, 2021
Free Outdoor Show with Opener Aidan Ryan in Costa Mesa, CA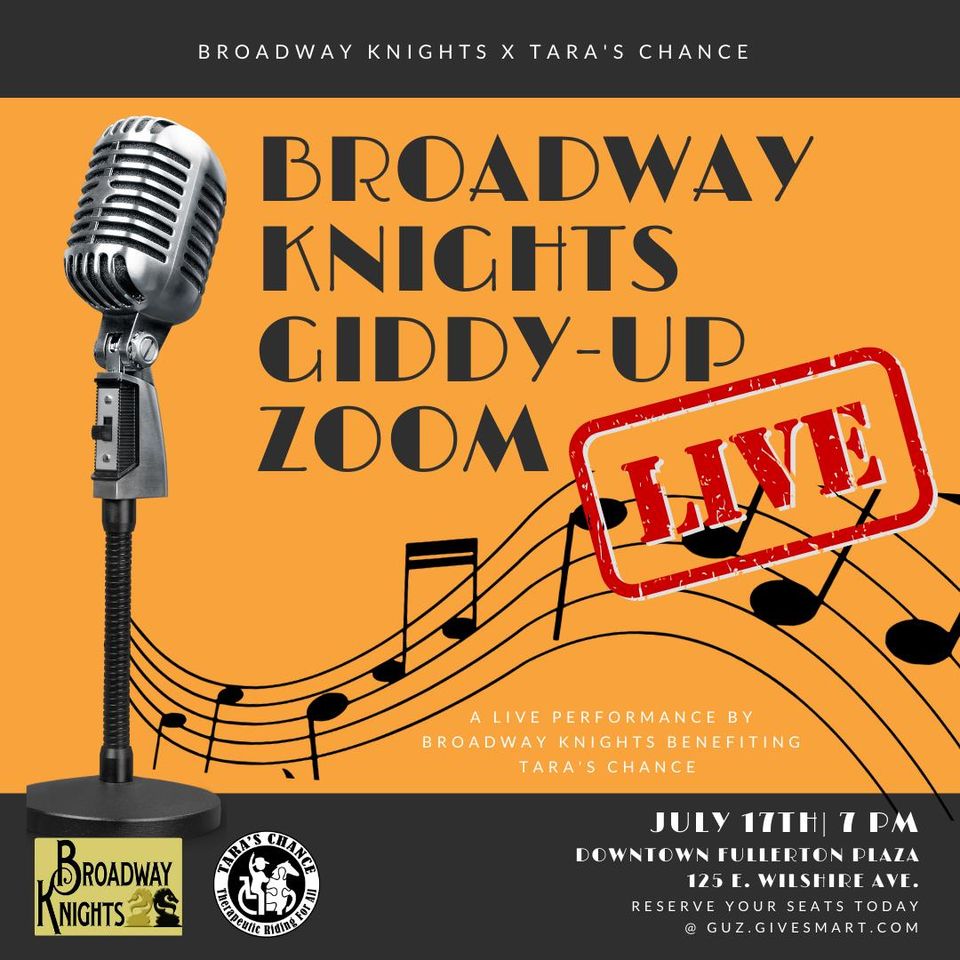 broadway knights + tara's chance
SATURDAY, JULY 17, 2021
Benefit Concert for Tara's Chance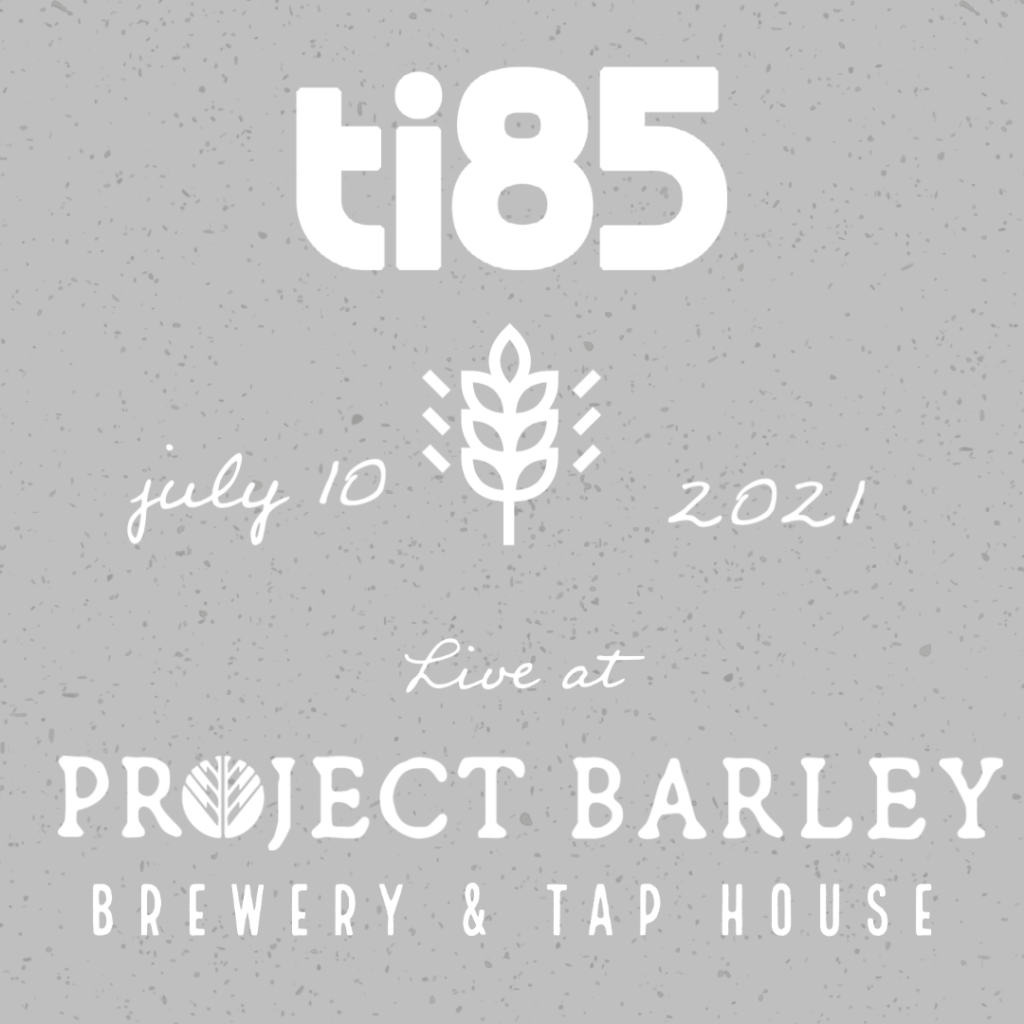 project barley – brewery & tap house
SATURDAY, JULY 10, 2021
With: The Avenues, The Dropoffs, Eleven Fall, Emerald Street, and X Wire
Lomita, CA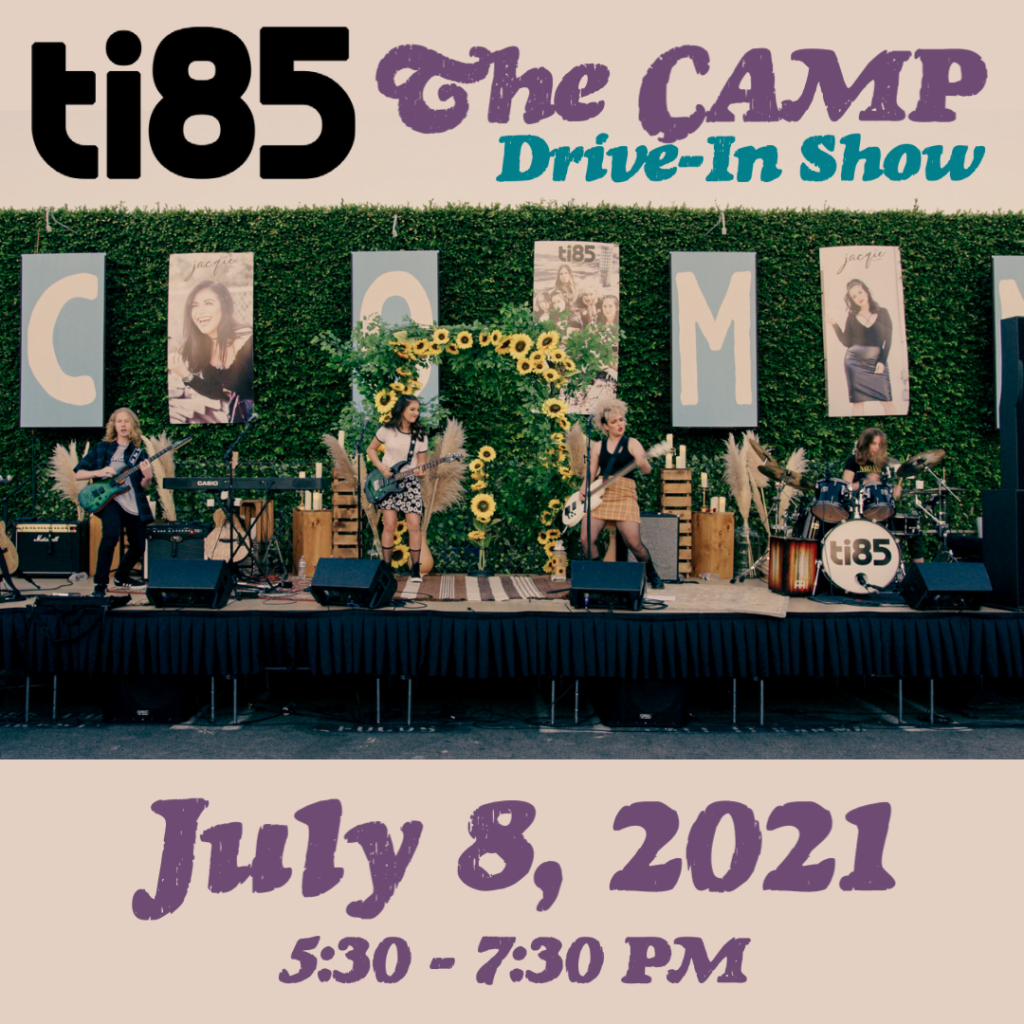 the camp
THURSDAY, JULY 8, 2021
DRIVE-IN / LOUNGE CHAIR SHOW in Costa Mesa, CA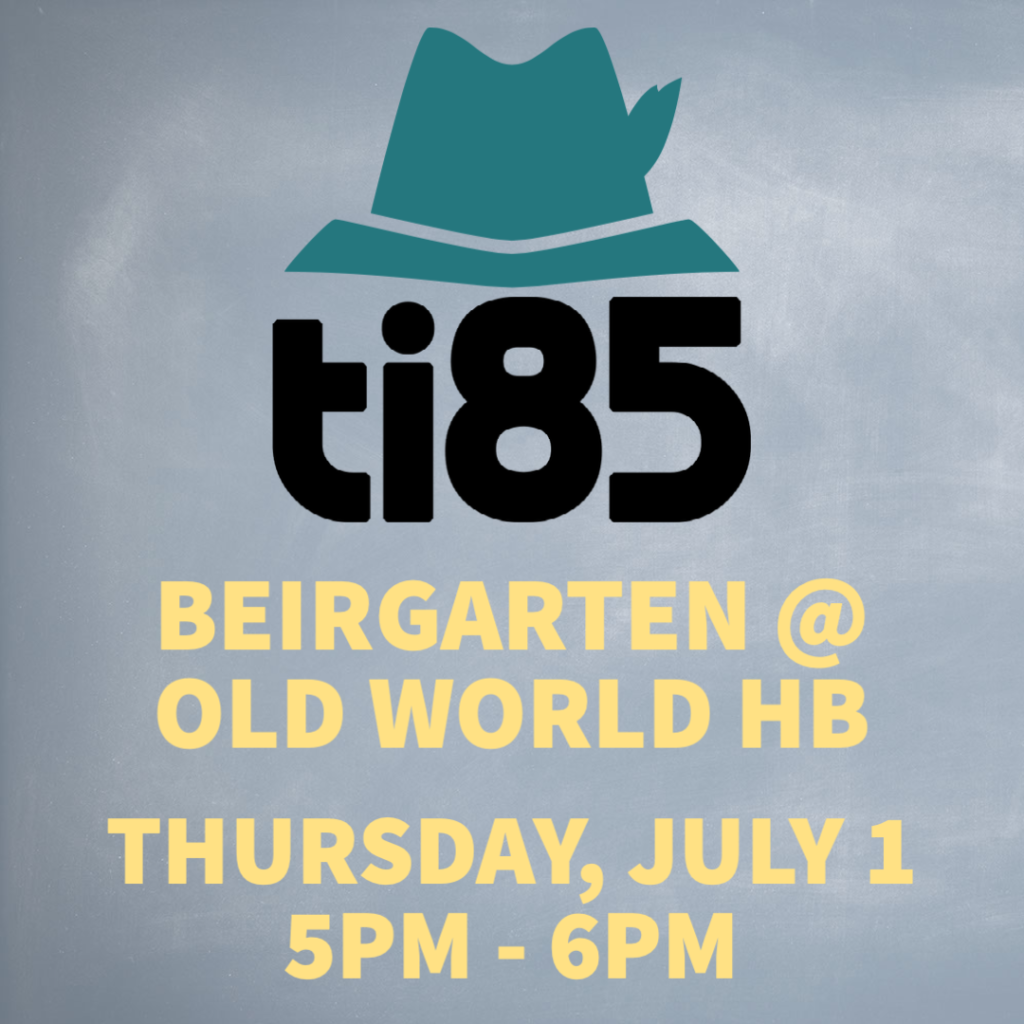 beirgarten @
old world
Huntington Beach
THURSDAY, JULY 1, 2021

Huntington Beach, CA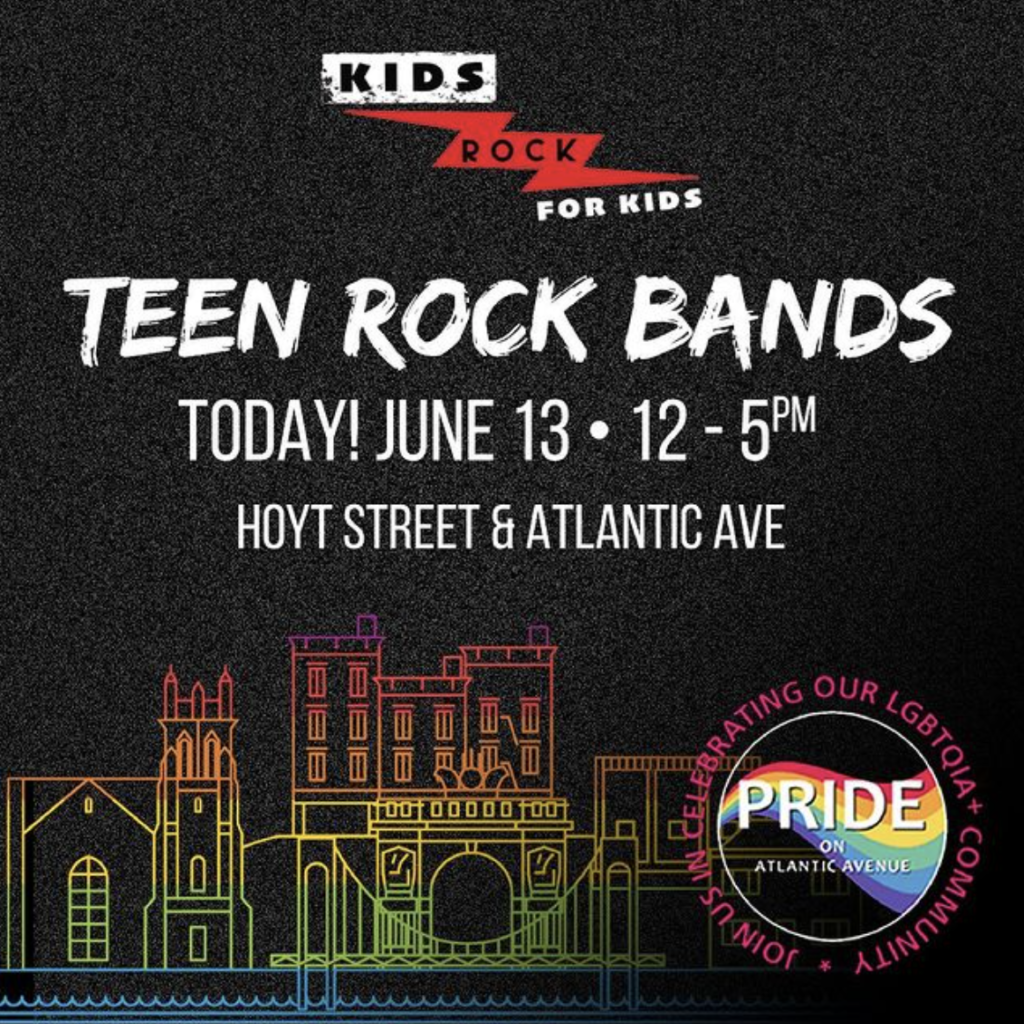 Kids Rock for Kids:
Pride on atlantic Avenue
SUNDAY, JUNE 13, 2021
Nine bands from around the country will help raise money for kids in need!
Brooklyn, NY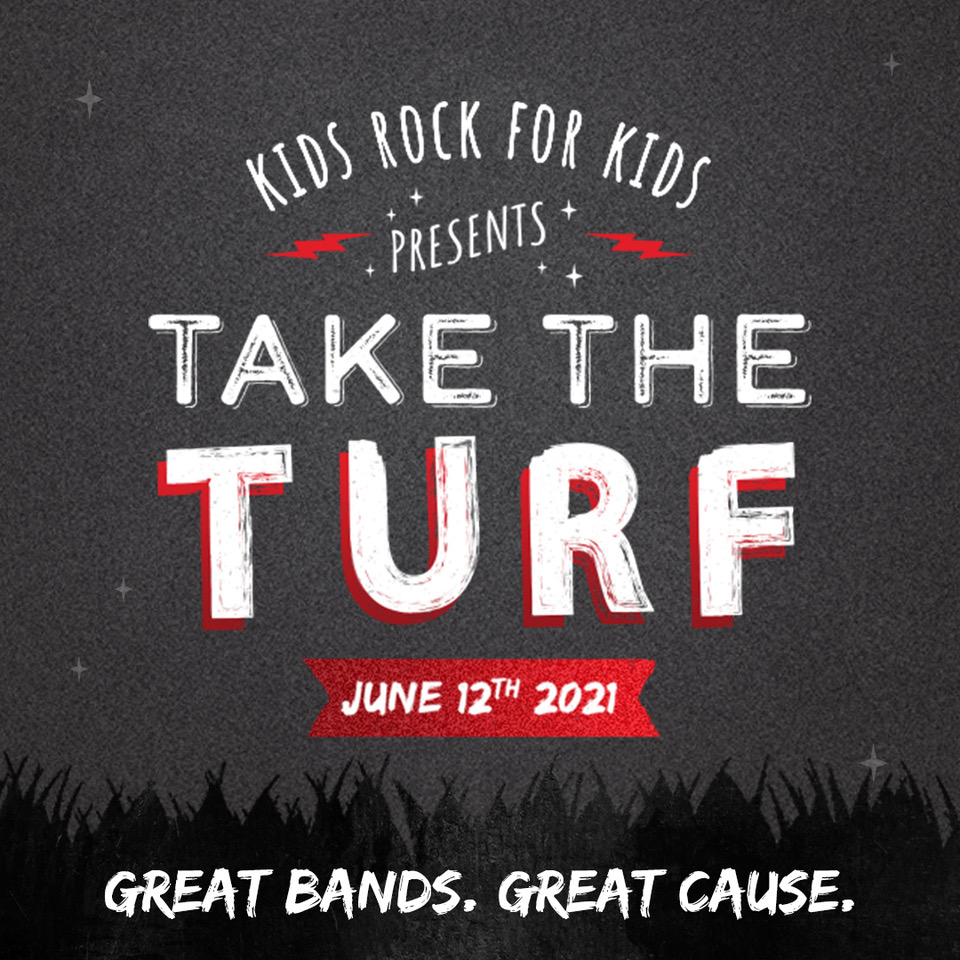 Kids Rock for Kids:
Take the turf
SATURDAY, JUNE 12, 2021
Nine bands from around the country will help raise money for kids in need!
Old Stone House in Brooklyn, NY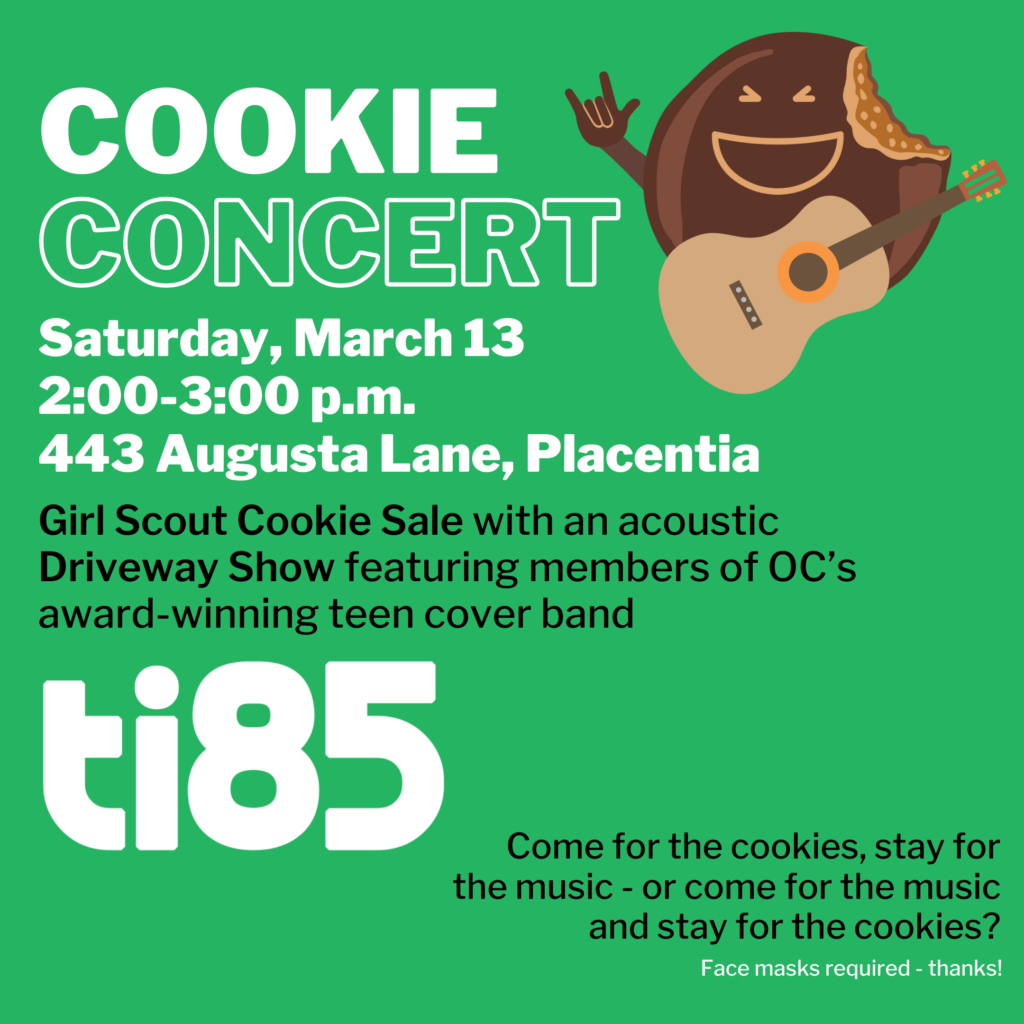 Cookie Concert
SATURDAY, MARCH 13, 2021
Driveway Show supporting Girl Scouts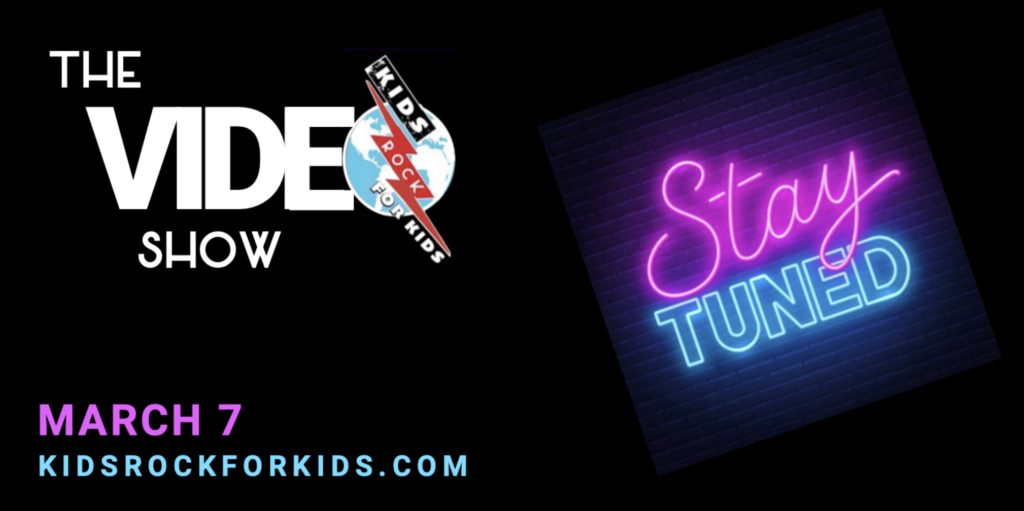 kids rock for kids – The video show
SUNDAY, MARCH 7, 2021 @ 5PM PST | 8PM EST
Livestream Premiere of our music video cover of
the Dirty Heads hit "Spread Too Thin"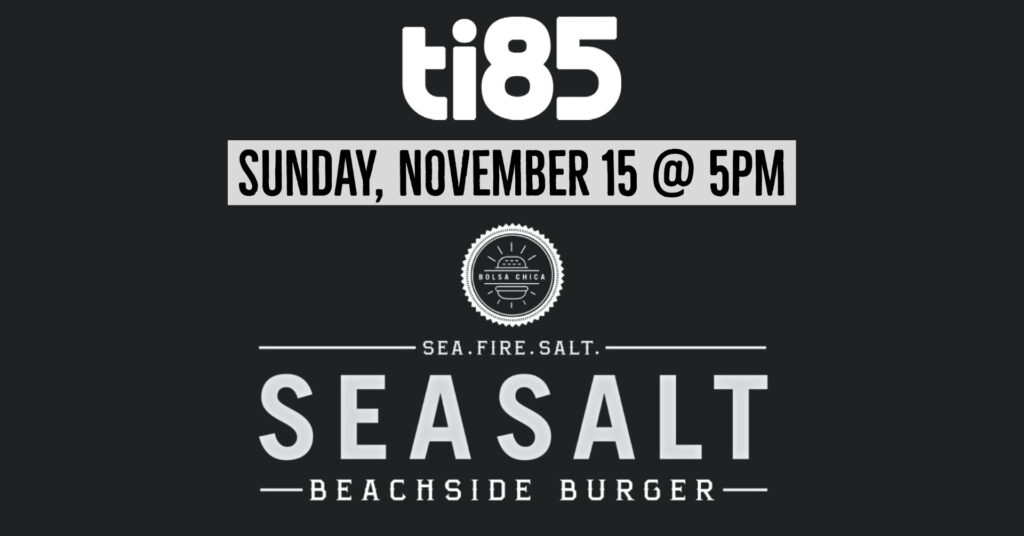 SeaSalt BeachSide Burger
SUNDAY, NOVEMBER 15, 2020
Huntington Beach, CA — at Bolsa Chica State Beach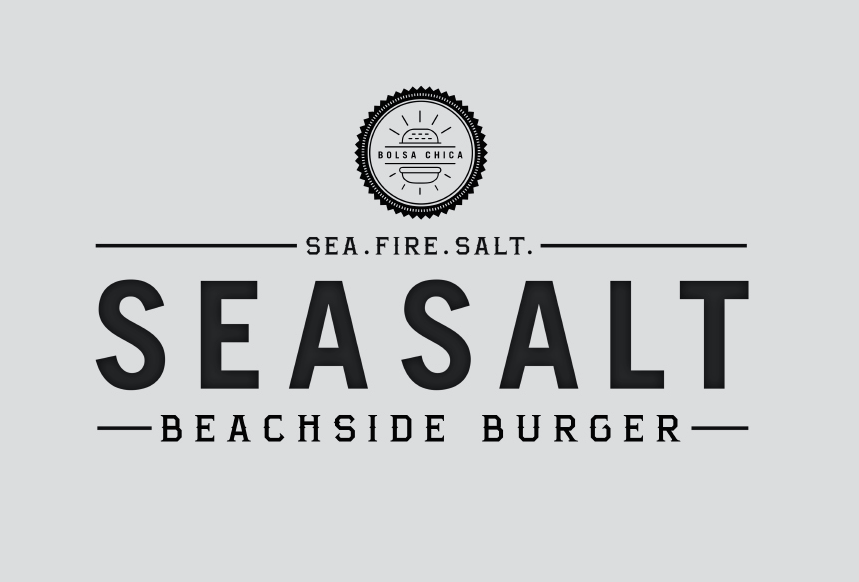 SeaSalt BeachSide Burger
SATURDAY, OCTOBER 17, 2020
with opener SUGAR BOMBS
Huntington Beach, CA — at Bolsa Chica State Beach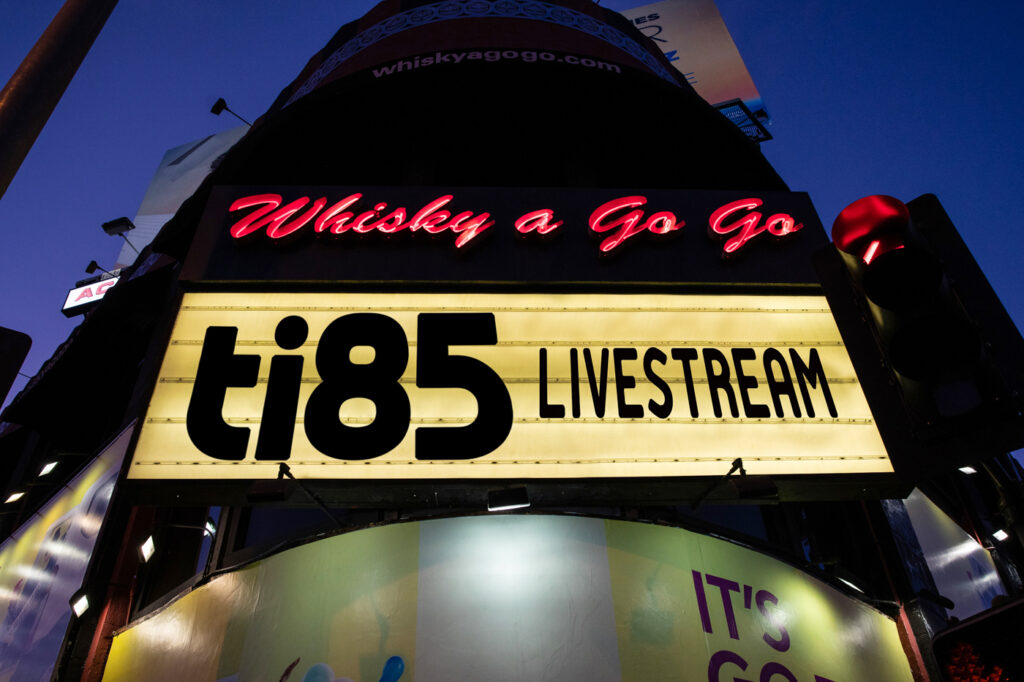 WHSIKY A GO GO – livestream
SUNDAY, SEPTEMBER 27, 2020
"Live on Sunset – Local Band Showcase Livestream"
West Hollywood, CA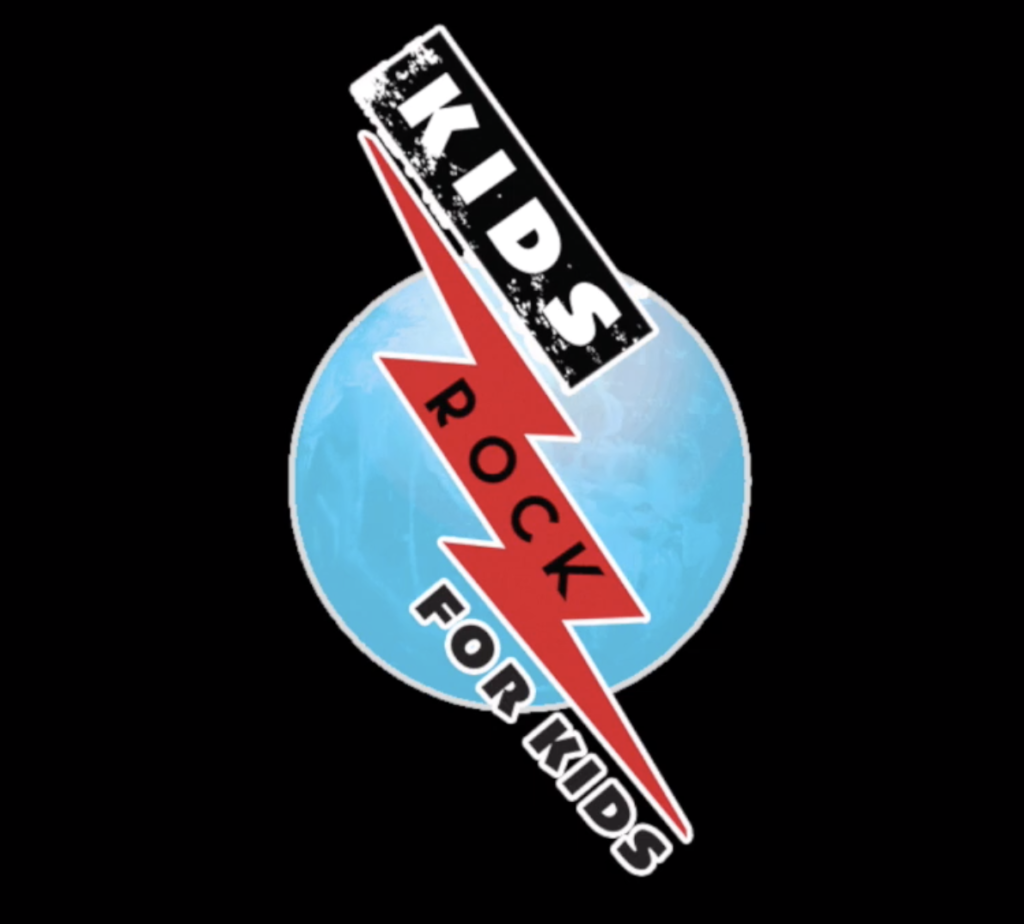 kids rock for kids – livestream
Premiere – SUNDAY, SEPTEMBER 13
Global Encore – MONDAY, SEPTEMBER 14
"Around the World" Livestream Benefit Show for Kids in Severe Need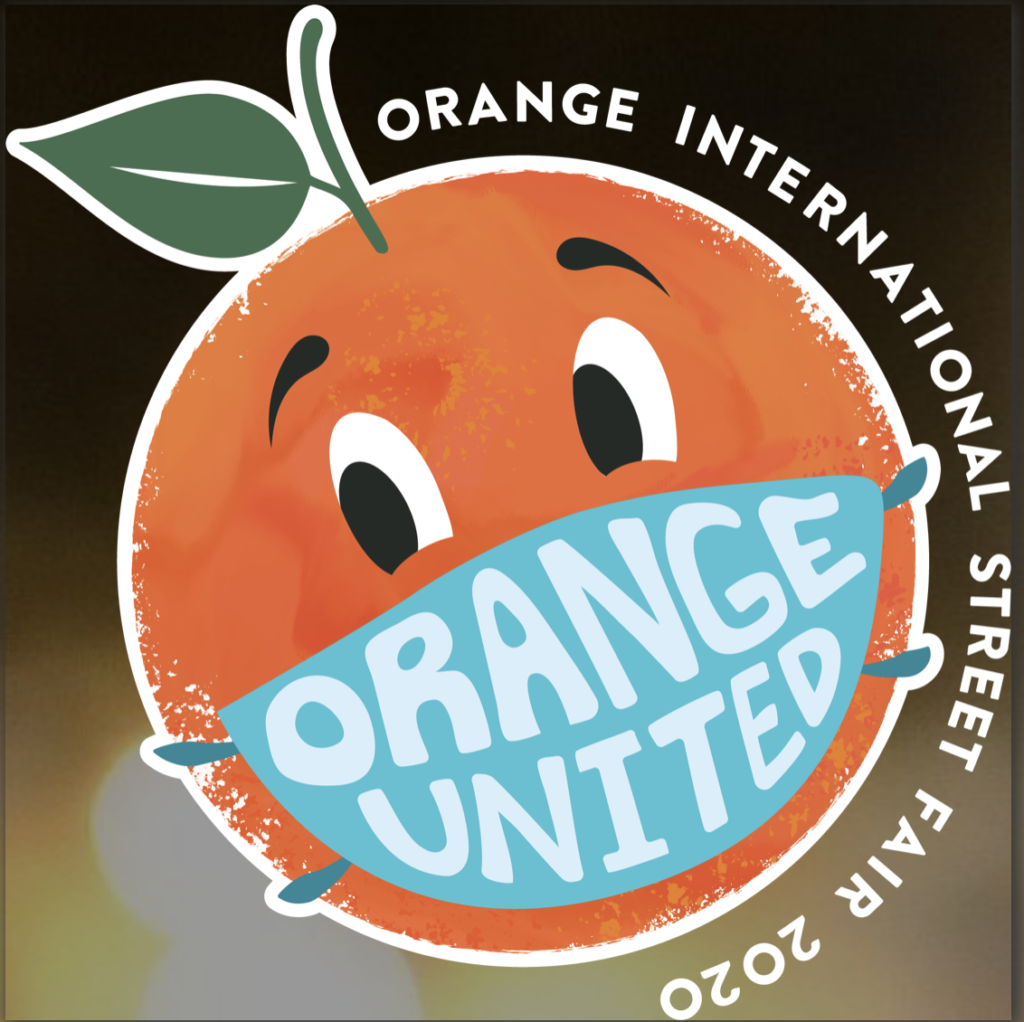 orange international street fair – livestream
MONDAY, SEPTEMBER 7, 2020
LiveStream for the Virtual Street Fair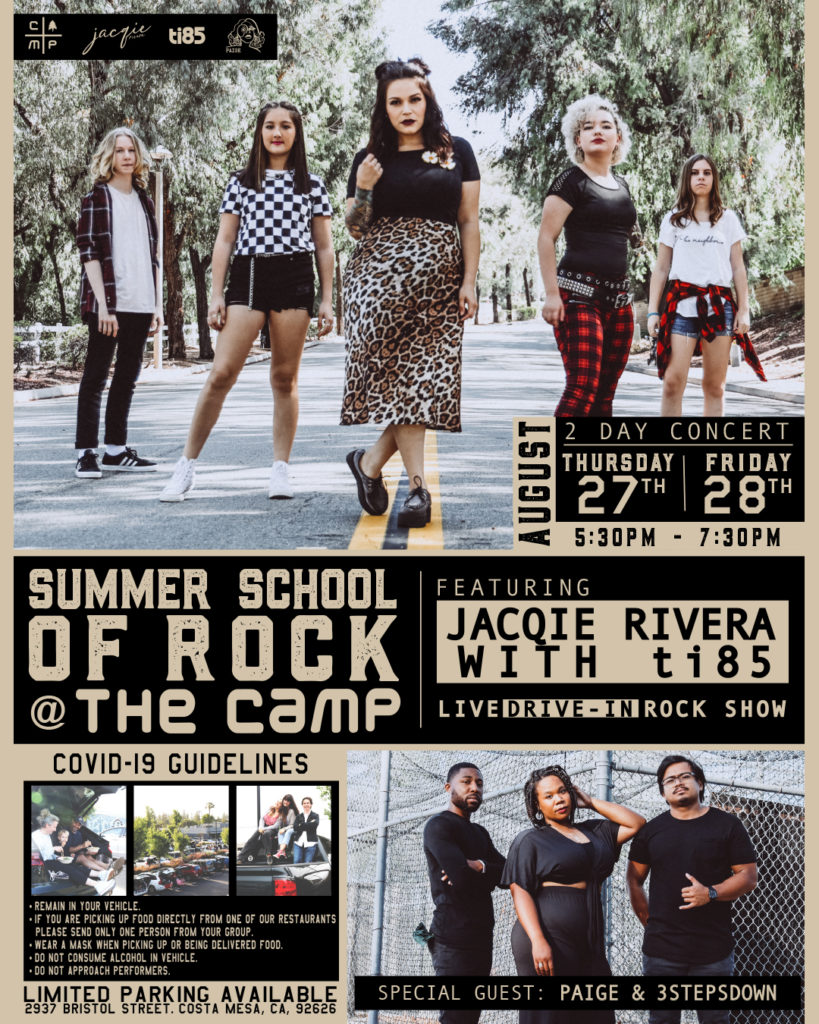 "summer school of rock" @ the camp
with Jacqie Rivera
SPECIAL GUEST: PAIGE & 3STEPSDOWN
THURSDAY, AUGUST 27 & FRIDAY, AUGUST 28, 2020
The CAMP in Costa Mesa, CA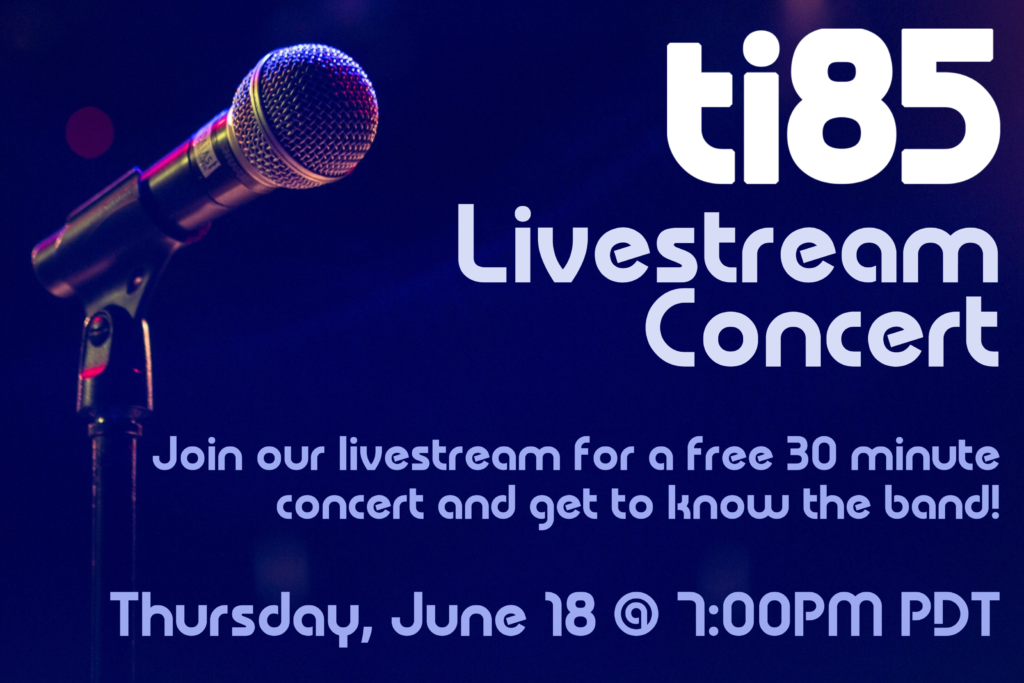 instagram livestream concert
THURSDAY, JUNE 18, 2020
Available on IGTV @ti85official
Main Street RESTAURANT
SUNDAY, MARCH 15, 2020
Yorba Linda, CA
the glass house
FRIDAY, FEBRUARY 28, 2020
"LOCAL BAND SHOWCASE"
Pomona, CA
THE DOLL HUT
SUNDAY, JANUARY 26, 2020
"Last Sundays Doll Hut Parking Lot Flea Market & Show"
Anaheim, CA
chain reaction
SATURDAY, JANUARY 18, 2020
Anaheim, CA
chain reaction
FRIDAY, DECEMBER 20, 2019
"How the Bands Stole Christmas"
Anaheim, CA
Main Street restaurant
SUNDAY, DECEMBER 8, 2019
"Rock 'N Holiday Show" with Those Guys
Yorba Linda, CA
the whisky a go go
SATURDAY, NOVEMBER 9, 2019
Opening for "The Sweet"
West Hollywood, CA
CHAIN REACTION
SUNDAY, OCTOBER 27, 2019
Anaheim, CA
house of blues anaheim
FRIDAY, OCTOBER 11, 2019
The Parish Room
Anaheim, CA
the whisky a go go
SATURDAY, AUGUST 17, 2019
Opening for "Frank Zappa"
West Hollywood, CA
teen battle of the bands
FRIDAY, AUGUST 16, 2019
"Yorba Linda Teen Battle of the Bands" – 1st Place Winners
Yorba Linda, CA